Case Study: Bulk Reduction Liposuction
Patient Profile:
Patient is a 46 years old male who is suffering from obesity and currently living in France. He has lot of fat in chest, tummy and love handles. His BMI was 32.2 with no co morbidities or previous history of medical/surgical hospital admission.
Surgical Planning:
Patient explained about removal of subcutaneous fat (under the skin fat) with liposuction through very small key holes of less than 0.5 mm which will be well hidden. Bulk reduction liposuction was planned involving removal of fat from chest, tummy and flanks.
Surgery:
It was planned in General Anaesthesia. Tumuscent liposuction was done using Power assisted Liposuction with Microaire with high powered Medela Suction. Approx. 5 litres of fat were removed from tummy and flanks. Whole surgery was completed in under 4 hours.
Post- surgery:
Patient experienced only slight discomfort and was discharged the next day. He was advised to wear compression garment 24*7 and take 5 days course of oral antibiotics. His recovery was smooth.
Results:
Post 2 days of bulk reduction liposuction his results can be appreciated. Results improve further over months. This surgery is for those who are not able to lose tummy fat and therefore can't get into active lifestyle. After reduction of extra fat, patient is motivated to lose fat that is inside the tummy and can lose it quickly!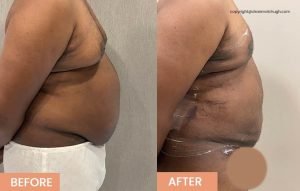 To know more about LIPOSUCTION : Liposuction Surgery in Delhi NCR