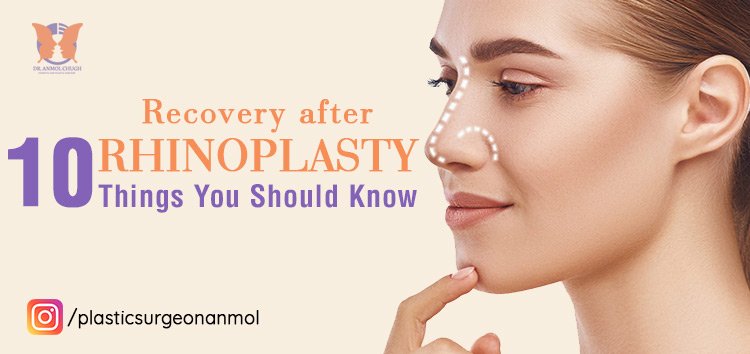 10 Tips to Speed Up Your Recovery after Rhinoplasty Surgery
Are you eager to see the results of your rhinoplasty or nose reshaping surgery?
Then you need to follows some process or tips advised by your plastic surgeon. During recovery time after the surgery done, there are some steps you can take to speed things up and need to ensure that everything heals properly.
Rhinoplasty or nose job is a life changing procedure as it can boost self-confidence of patient who are not happy with shape and size of their nose. It is mostly done as day care surgery that is you are discharged the same day. After surgery, you are transferred to recovery room where parameters like heart rate, Blood pressure, breathing rate and general recovery.
Here are 10 things that you should know about recovery after rhinoplasty:
1. HOME:
Mostly you can go home in the evening of day of surgery or early next morning. You can take a cab or ask someone to drive you home as it is not advisable to drive. A caregiver needs to be there for first 24 hours. Also Dr. Chugh gives his personal number to patients so that in case of any emergency you are assured of constant support.
2. SWELLING:
After surgery, there will be swelling and bruising around eyes especially if osteotomy is performed. It increases in first 3-4 days and then starts subsiding. You are advised to keep head elevated by putting a pillow under your ahead. Also Arnica ointment helps in reducing swelling and bruising.
Swelling subsides gradually. A simple rule to understand when you can see the result is 3,6,9 rule. You can appreciate 30% of final result by 3 months, 60% by 6 months, 90% by 9 months and complete results by one year (12 months).
3. BREATHING:
Your nose will be packed after surgery therefore you will be required to breath by mouth for two days. Steam inhalation thrice a day will be advised as stuffiness will be there. Breathing improves gradually as swelling and bruising subsides.
4. BLEEDING:
First few days after rhinoplasty, you might experience spotting of blood which is completely normal and can be cleaned by cotton pad.
5. SENSATION:
Sensation especially around tip region of the nose takes time and returns over months.
6. DRESSINGS:
Splint is removed on day 7 along with external stitches. Stitches inside the nose are dissolvable and don't require removal.
7. RETURN TO NORMALCY:
Social activities might be limited for a week or two because of swelling. Activities like running, jogging, swimming etc. should be avoided for three weeks. Avoid sun exposure, hitting on nose at least for three months. Also avoid blowing of nose for three weeks.
8. SPECTACLES:
Glasses can be worn after splint removal. Important thing is to avoid pressure on nose therefore tape the frames to forehead or prop on cheeks for 6-8 weeks. Also if possible wear contact lenses so that healing is unhindered.
9. PAIN:
Generally patients don't feel much pain and don't take pain relievers after first day.
10. FOLLOW UP:
Follow up visits are essential for both surgeon and patient to assess on healing and general well- being.
Dr. Anmol Chugh is an international expert on Rhinoplasty and facial aesthetics. With an extensive experience of difficult rhinoplasty cases, Dr. Chugh makes exclusive customized plan for every patient to achieve his/her desired results.
To book an appointment, Call or Whatsapp: +91-9588754188