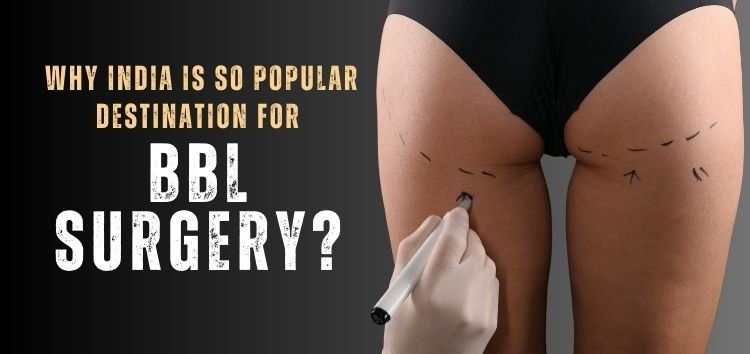 Why India is so popular destination for Brazilian Butt Lift Surgery in 2023?
India is known for its rapidly growing medical tourism industry, with several world-class hospitals and skilled plastic surgeons. Many international patients travel to India for various medical procedures, including cosmetic surgeries like the Brazilian Butt Lift.
Cost-effectiveness Treatment option:
Medical procedures in India, including cosmetic surgeries like the Brazilian Butt Lift, are often significantly more affordable compared to countries like the United States, Canada, or other European nations.
Like in India BBL Surgery cost in India in 2023 (For International Patient) around $3200 to $4500, where as in USA its cost around $8,000–$10,000. This cost advantage attracts international patients seeking quality healthcare at a fraction of the price they would pay in their home countries.
Quality of personalized healthcare:
India boasts a robust healthcare system with several accredited hospitals and clinics in Delhi NCR that adhere to international standards. Many Indian doctors and surgeons are well-trained, experienced, and hold qualifications from reputable institutions. Some healthcare facilities even have collaborations with renowned medical centers from other countries, further enhancing their expertise.
Skilled Board-Certified Plastic surgeons:
India has produced many skilled and experienced plastic surgeons known for their expertise in performing various cosmetic surgeries, including the Brazilian Butt Lift. Some of these surgeons have received training and experience abroad, contributing to their high level of proficiency.
Read About Dr Anmol Chugh – Board Certified Plastic Surgeon in India
Advanced technology and facilities:
Many hospitals and clinics in India are equipped with state-of-the-art medical technology and modern facilities, providing patients with access to the latest advancements in healthcare. Like in CK Birla Hospital, equipped with state-of-the-art most advanced surgical treatment machine.

Language proficiency:
When seeking Brazilian Butt Lift treatment in India, international patients usually find it relatively easy to communicate with medical staff, as many of them are accustomed to dealing with patients from different parts of the world. Medical reports, prescriptions, and other documentation are often available in English as well.
Additionally, medical interpreters are fluent in the patient's native tongue as well as the language that healthcare professionals use, such as English or the regional tongue. They translate spoken exchanges between the patient and the medical team, ensuring that all details, queries, and concerns are appropriately communicated.
Medical tourism support:
India has actively promoted medical tourism over the years, with the government and private organizations working together to offer support services to international patients. These services may include assistance with travel arrangements, visa processing, accommodation, and local transportation.
Like if you are coming for BBL Surgery in India, Our Centre just 1 hour Distance from IGI Airport(Terminal 3)

Diverse tourism opportunities:
India is a country rich in culture, history, and natural beauty, making it an appealing destination for travellers. Many international patients take the opportunity to combine their medical treatment with a memorable tourism experience.
Reduced wait times:
In some countries with high demand for cosmetic surgeries, there might be long waiting lists for appointments. In India, patients may experience shorter wait times for consultations and surgery.
Conclusion:
It is important to note that while India offers several advantages as a medical tourism destination, patients should carefully research and choose reputable hospitals or clinics and board-certified surgeons.
Additionally, consider potential travel logistics, post-operative care, and any associated risks before making a decision. Medical tourism should prioritize the safety and well-being of the patient above all else.