Everything You Need to Know About Neck Lift Surgery by Dr Anmol Chugh
A neck lift operation, often referred to as a lower rhytidectomy, is a cosmetic technique that targets problems with loose or sagging skin, extra fat deposits, and muscle laxity in order to enhance the appearance of the neck and jawline, Dr Anmol Says a board-certified plastic surgeon in India, Head of Plastic surgery at CK Birla Hospital.
Here is everything you need to know about neck lift surgery:
The Purpose of a Neck Lift Surgery:
A neck lift is performed to achieve a more youthful and rejuvenated appearance by tightening and smoothing the neck area.
Common concerns addressed by neck lift surgery include the appearance of "turkey neck," jowls, vertical bands, and excess fat under the chin.
Who can be an Ideal Candidates for neck lift?
Loose or Sagging Skin:
Excess Fat:
Muscle Banding:
Good Overall Health:
Realistic Expectations:
Non-Smokers:
Stable Weight:
Psychological Readiness:
Consultation with Plastic surgeon:
Before the surgery, you'll have a consultation with us at CK Birla Hospital or at Our Clinic Imperio Clinics Premium Aesthetic Centre.
During the consultation, you'll discuss your goals, medical history, and the surgical plan, including potential risks and complications with Dr Anmol.
Understand Types of Neck Lift Procedures:
–  There are various techniques for neck lift surgery performing at centre, including:
Liposuction

: Removes excess fat deposits
Cervicoplasty: Involves removing excess skin.
Platysmaplasty: Tightens the neck muscles.
   – The specific procedures used depend on your individual needs and goals.
Surgery Details:
Dr. Anmol underwent a neck lift procedure at CK Birla Hospital while sedated and under general anesthesia. Depending on the chosen technique, incisions are either done behind the ears, under the chin, or both. The skin is repositioned, the muscles are tightened, and extra fat is eliminated. Sutures are subsequently used to seal the incisions.
Recovery and Downtime:
After the surgery, you may experience swelling, bruising, and discomfort, which typically subside within a few weeks Dr. Anmol says. According to him, patients usually need to wear a compression garment to support the healing process for a few weeks, as per his instructions. It may take several months for the results to become apparent.
Risks and Complications:
Like any surgical procedure, neck lift surgery carries some risks, including infection, scarring, hematoma, and nerve injury. Following your surgeon's instructions and choosing an experienced and board-certified surgeon can help minimize these risks.
Results after the Neck lift Surgical procedure:
A successful neck lift can provide a more youthful and defined neck and jawline. Results are permanent and long-lasting, but the aging process will continue, and future touch-up procedures may be necessary.
Cost of neck lift surgery in India:
The cost for neck lift surgery in India can vary significantly depending on several factors, such as the location of the hospital, the competence and experience of a plastic surgeon, the type of anesthetic used, the reputation of the facility or the specific surgical methods involved.
Alternatives Non-Surgical Options:
Non-surgical alternatives like Botox, dermal fillers, and ultrasound therapy may be considered for mild to moderate neck concerns.
Before undergoing neck lift surgery, it's crucial to research and select a qualified and experienced plastic surgeon, follow pre-operative and post-operative care instructions diligently, and have realistic expectations about the outcomes. Always consult with a board-certified plastic surgeon to determine the best approach for addressing your specific concerns and goals.
———————————————————————————————————————————————————
About Author : Dr Anmol Chugh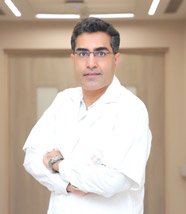 The Director of the Plastic and Aesthetic Center at the CK Birla Hospital in Gurugram, Delhi NCR, is Dr. Chugh. He is the top plastic surgeon in India, and his clientele is international.
Dr. Chugh offers a holistic approach in accordance with the needs of the patient and has more than 13 years of experience in the field of aesthetics. He earned his medical degree from the esteemed Maulana Azad Medical College in New Delhi and continued there to get his master's in general surgery as part of his quest for excellence. He then pursued an M.Ch. in Plastic and Reconstructive Surgery at Safdarjung Hospital in New Delhi, one of India's top universities.