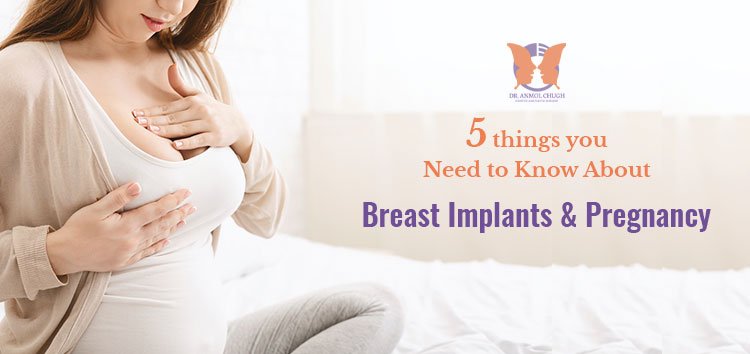 5 things you Need to Know About Breast Implants and Pregnancy
1. Is it better to get breast implants after pregnancy?
Getting Breast implants is a personal decision. Technically speaking it doesn't affect your breast in a bad way even after you get pregnant.
Breast implants don't burst or leak even if the breast size increases during pregnancy under hormonal changes. Also breast implants don't make the breast saggy as lost of the breast volume after pregnancy is due to loss of breast tissue because of hormonal levels alteration.
2. Is it ok to breast feed after implants?
One of the most frequently asked question is it safe to breast feed after getting implants. The answer is Yes!
Breast implants are either placed under the muscle or over the muscle. Breast glands are responsible for breast milk which is fed into ducts and then goes into nipples. The incision that Dr. Anmol Chugh uses is inframammary and not peri areolar.
There is risk of damage to ducts in using breast implants through peri areolar that is around the nipples but inframammary incision is safe to place implants.
Breast glands are not touched as implants are placed below it.
3. Will I need surgery again after pregnancy?
Post pregnancy it is not necessary that you will need redo surgery if you have got breast implants done.
In fact the loss of breast volume due to pregnancy is masked successfully with breast implants. In some cases patients might go for breast reduction or breast lift.
4. When to get pregnant after breast implants?
It is better to keep a gap of six months post – surgery as it ensures complete healing and also shape settles in.
A proper assessment by you plastic surgeon and regular follow ups can guide you in right direction.
5. Are breast implants safe?
Breast implants of modern day are safe if done by a trained plastic surgeon who is well versed with breast surgeries. There are certain pros and cons that need to be discussed before breast augmentation in detail.
Breast augmentation either through implants or fat grafting or combination is a specialized procedure which is customized according to the patient needs. Dr. Anmol Chugh is leading plastic and cosmetic surgeon based in Delhi-NCR with an extensive experience of breast implants and other breast procedures. He is fellow of Melbourne Institute of Plastic Surgery, Australia which does more than 50,000 breast augmentation surgeries per year.
To book an appointment, call or Whatsapp : +91-9588754188