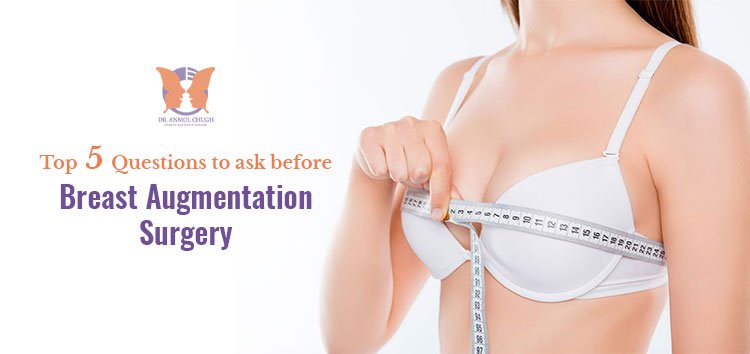 Top 5 Questions to ask before Breast Augmentation Surgery
Breast enlargement or breast augmentation surgery is one of the most searched topics on google. Women often get confused when trying to find right answers.
Let's address top 5 questions that women have before undergoing the procedure.
Dr. Anmol Chugh, renowned Plastic Surgeon in Delhi and Gurugram, with proven successful track record in breast augmentation surgeries will clear all your doubts.
1. What is breast augmentation surgery?
Breast augmentation or breast enlargement is a surgery done by specialist cosmetic and plastic surgeon to increase the size of woman's breasts. It can be done surgically with the help of silicone gel implants, fat transfer or using chest tissue.
2.  Why do I need breast enlargement?
There are many reasons that help in deciding for women to go for breast enlargement.
Breast Hypoplasia: It means that breast are small even after completion of puberty.
Loss of breast volume: Breastfeeding, aging, post pregnancy, massive weight loss can be a reason to get it done.
Breast asymmetry: Breast asymmetry can be corrected by filling the underdeveloped breast with implant, fat or both.
Post mastectomy: Breast cancer surgery entails rebuilding the breast tissue with various options.
3.What is the cost of breast enlargement or breast augmentation surgery?
The cost of breast augmentation varies with
Type of implant
Size of implants
Composite breast augmentation – Breast implant plus breast fat transfer
Additional procedures: Breast lift or breast reduction
To know more about cost and other determining factors please visit Breast Augmentation Cost in Delhi NCR
4.Is the breast enhancement surgery painful?
Breast augmentation surgery is safe and painless as it is done under anaesthesia. Mostly it is described as stiffness post- surgery which is easily relieved by oral pain killers.
You can go home same day and resume work after a day of rest. Heavy work should be avoided for 2 weeks and heavy exercise should be started only after a month.
5.  How long is the surgery?
Everything is discussed in detail in your consultation including the incision, type of implants, size of implants, site of placement to ensure surgery is smooth and recovery is quick. The surgery takes around 1-2 hours depending on it is combined with breast at transfer or any other additional procedure.
Breast augmentation is a specialized procedure which is customized according to the patient needs. Dr. Anmol Chugh is leading plastic and cosmetic surgeon based in Delhi-NCR with an extensive experience of breast implants and other breast procedures. He is internationally renowned speaker on having delivered talks on his research on fat grafting and breast surgeries worldwide.
To book an appointment, call or Whatsapp: +91 9588754188