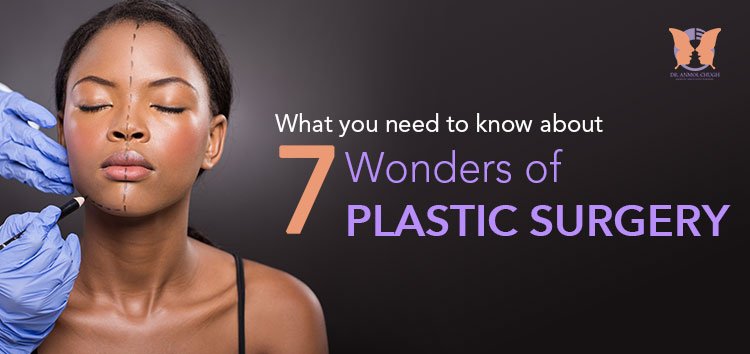 What you need to know about Seven Wonders of Plastic Surgery?
We all know about the seven wonders of the world. But did you know about the seven wonders of plastic surgery.
Plastic surgery is a very diverse branch as it mainly consists of seven branches
Trauma surgery
Any kind of trauma, be it on the face, hand or leg. It comes under the purview of a plastic surgeon as you don't want a scar that is visible to everyone. You want to hide it or want to fade it away then plastic surgeon is the right choice.
Reconstructive surgery
Reconstructive means that we are taking out the tissue from another part of the body and bringing it to another part like in the case of breast cancer when the breast is removed and to restore a woman's confidence we do breast surgeries in a way that we bring out the tissue to make normal looking breasts which was before the surgery.
Also in the case of diabetic wounds or the chronic wounds that are not healing, we can do different type of surgeries like flap surgeries and grafting.
Maxillofacial surgery
As the name suggests it includes the bones in the face like the jawbone fracture, nose fractures or cheekbone fractures.
Hand surgery
Any kind of hand trauma or if injury is there to a neurovascular structure that is the arteries the nerves or any vein then plastic surgeon is the right person to repair that.
Along with that if you have something known as carpal tunnel syndrome or brachial plexus injury in which you cannot lift your hand, whether it is congenital that is from the birth or due to any kind of injury, the plastic surgeons deal with all kind of hand surgeries.
Paediatric plastic surgery
As the name suggests pediatric means kid. It can be due to the moles that are present from the birth or any other birth marks that are there, Plastic surgeons are well equipped to deal with that.
Also the cleft lip and palate in which, the lip is not formed properly right from the birth can be dealt adequately by a plastic surgeon.
Burn surgery
It can be in the form of acute burns due to any thermal burns or due to any fire like in Diwali or all the other festivals or it can be a chronic wound because of the burns like the contracture or difficulty in opening mouth due to burns or difficulty in doing hand movements.
Cosmetic surgery
Cosmetic surgery is one of the important branches of plastic surgery that includes facial cosmetic surgery, body contouring surgeries like liposuction, tummy tuck and all those surgeries in which we not only make you look good but also make you feel good.
It has sub branches:
Face Cosmetic Surgery
Facelift
Necklift
Rhinoplasty
Otoplasty
Blepharoplasty
Facial Fat transfer
Jawline contouring
Buccal fat removal
Chin implants
Genioplasty
Botox and fillers
Mole, birth mark removal
Ear lobe repair
Breast Cosmetic Surgery
Breast implants
Breast fat transfer
Breast reduction
Breast lift
Tuberous breast correction
Inverted nipples correction
Body contouring Surgery
High- definition liposuction
Axillary fat pad removal
Diastasis Recti repair
Umblicoplasty
Brazilian butt lift
Fat transfer
Genital Rejuvenation Surgery
Vaginoplasty
Labiaplasty
Hymenoplasty
Penis enlargement
Dr. Anmol Chugh is one of the most sought-after speakers in both national and international arena. He is also the chief editor of Plasticos which is an international bulletin for plastic surgeons around the globe.
Dr. Anmol Chugh is a board-certified plastic surgeon in India with more than 10 years of experience and expertise in cosmetic surgeries in the domain of aesthetic surgeries.
Having completed his training from premier institutes like Maulana Azad Medical College and Safdarjung Hospital which was then backed by advanced aesthetic surgery training from Australia. Dr. Chugh offers the best and safest cosmetic surgeries and makes an exclusive bespoke plan for each patient.
To book an appointment, call: +91-9588754188 or email: plasticsurgeonanmol@gmail.com