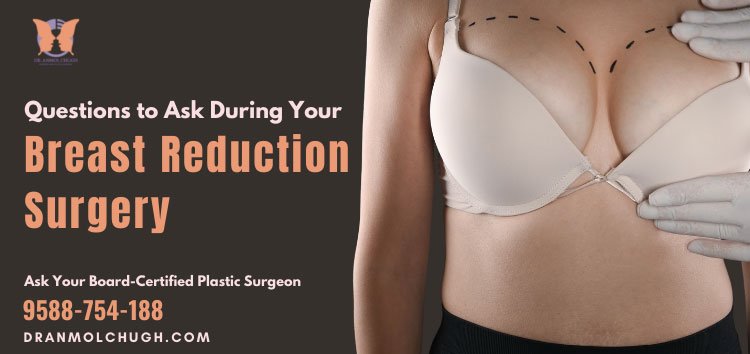 Questions to Ask During Your Breast Reduction Surgery
You should ask your plastic surgeon what type of breast reduction they will be performing. This will determine the size and shape of your new breasts.
Below are the questions you should ask during your initial consultation with your surgeon.
What is the procedure like? What can I expect?
Am I a good candidate for breast reduction?
Is it necessary to get a mammogram before breast reduction?
Will the procedure affect my breastfeeding ability?
How quickly will I recover?
What is the best size for me?
How many surgeries will I need?
What will the scar be like?
Will I need to hide my scars when I wear a bikini or other revealing clothing?
Should I take medication for pain management before surgery or only after the procedure?
What specific steps will be taken before, during, and after surgery to ensure my safety and health?
How long have you been performing this procedure for?
How many of these procedures have you performed in the last year alone?
Can you provide me with a list of references from patients who have had this procedure done by you within the last year?
Understanding the Need for Breast Reduction
Breast reduction is a surgical procedure that removes some or all of the breast tissue to reduce their size. In most cases, this surgery is done to improve appearance and self-image. This surgery can be performed on women of any age but it usually takes place during adolescence when breasts are growing quickly and may increase in size too large for the woman's frame.
About Breast Reduction Surgery
Breast reduction surgery always require general anesthesia. After the surgery, you will need to wear either a bra or a special support garment for up to six weeks. But your surgeon will provide specific instructions on how to manage your recovery after your surgery.
Why choose Dr Anmol Chugh for breast reduction surgery?
Dr. Anmol Chugh is a well-known cosmetic surgeon in Delhi NCR India. We have tried to make this article informative and useful for people who are looking to get breast reduction surgery in India.
Dr Anmol Chugh has been practicing as a cosmetic surgeon for over 12 years now. He has performed more than 10000 surgeries which include breast reduction, liposuction, face lift, Gynecomastia and many more. Dr Anmol Chugh is known for his expertise in the field of plastic surgery and has been practicing it with the best of his knowledge and experience.
Dr. Anmol Chugh is an experienced cosmetic surgeon and a qualified practitioner in the field of aesthetic and reconstructive surgery.
Board certified Plastic surgeon trained from best institutes in India
Trained in Cosmetic Surgery from Australia(Melbourne Institute of Plastic Surgery, The Centre of Facial Plastic Surgery)
Member of ISAPS (International) & IAAPS (National) society of aesthetic surgery
Head of Plastic and Aesthetic Centre of CK Birla Hospital, Gurugram (Delhi NCR)