Breast Augmentation with Implants – Case Study for 40 year old female
Breast Augmentation with Implants
Patient: 40 year old female
Concerns: Deflated breasts
Examination: Breast Hypoplasia with minimal sagginess
Plan: Breast augmentation with implants of size 260 cc each side after 3D consultation
Results: Post one week, breast implants with smooth round implants of 260 cc.
Further improvement in shape over 6 months.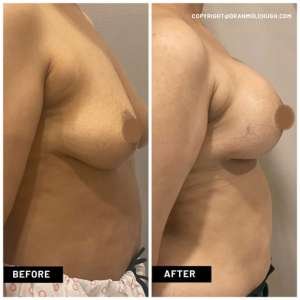 Breast Implants are used to augment the breasts in patients who are looking to enhance the size.
We usually do 3D/ 4D consultations for breast augmentation, breast reduction, breast lift, breast fat transfer or revision breast surgeries.
Also it's recommended to get a mammogram and breast examination to rule out Breast Cancer.
We use Smooth implants which have not been associated with ALCL or Anaplastic Large Cell Lymphoma unlike Textured Breast Implants.
Always choose a board certified plastic surgeon who is well trained in Breast Cosmetic Surgery.
To know more about Breast Implants
To know more about Dr. Anmol Chugh