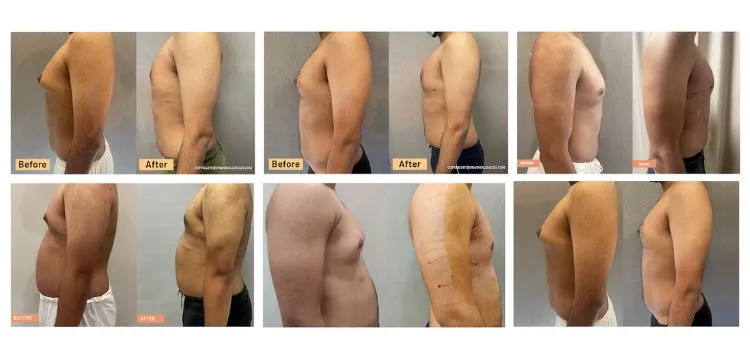 How does gynecomastia before and after real patient images will help you make treatment decisions in 2024?
How Gynecomastia Before and After Photos Can Help You Find Clarity About Your Treatment Decision?
Gynecomastia, or enlarged breast in men, you know, involves the development of excess breast tissue in men. As per research from the Global Survey from ISAPS on Gynecomastia, is the top 5 surgical procedures in the world.
The total number of 282,997 procedures performed worldwide in 2021 compared to 210,737 procedures performed in 2020
When I am talking about the Indian scenario, the total number of 31,104 gynecomastia surgeries performed in 2021 is compared to 22,464 procedures performed in 2020.
Here, you can see that the number of surgeries has increased, which indicates that most of the men who are suffering from or facing gynecomastia are not hesitant to go for the surgery.
So, in your mind,
How can you decide to go for treatment?
Who can give you the best advice? Doctor or patient?
As a Board certified plastic surgeon, I can advise you about our treatment process, patient guidelines, before and after surgery, medication for recovery, etc.
But another aspect is that you can check our patient experience (available on our youtube channel and website link) either in video formats or picture formats.
When we are talking about picture formats, we have before and after photos of our real gynecomastia patient.
So, How Gynecomastia Before and After Photos Can Help You?
Gynecomastia before-and-after photos can be instrumental in helping individuals find clarity about their treatment decisions in the following ways:
Visual Representation:
Before-and-after photographs show the probable outcomes of gynecomastia treatment. Individuals can better grasp the transformation that can be achieved through various therapy methods by witnessing actual results.
Like you can see these before & after photos,
Realistic Expectations:
You can see above These images assist people in developing reasonable expectations about what gynecomastia treatment can accomplish. When they witness the actual results of other patients, it can help them avoid having unreasonable expectations or misunderstandings regarding the outcomes.
Variability like From mild to Severe Gynecomastia problem:
The degree and presentation of gynecomastia might vary. Before-and-after photographs frequently depict a wide variety of instances, from mild to severe. Some patients are in Grade 1, while others are in Grade 4 (extremely severe cases of gynecomastia). This variety allows patients to relate to people who have conditions comparable to their own, providing a more comprehensive view of prospective outcomes.
Different Treatment Approaches:
Gynecomastia can be treated through various methods, including surgery, different liposuction technology, or lifestyle changes. Before-and-after photos may showcase the results of different treatment approaches, enabling patients to assess which method aligns with their specific goals and preferences.
Decision Confidence:
Viewing successful outcomes in these photos can boost confidence in one's treatment decision. Seeing that their chosen approach has worked for others can reduce anxiety or hesitation and reinforce their belief in the treatment's effectiveness.
Consultation Help:
Before-and-after photographs might also be useful during medical consultations. Patients can share these photographs with their doctors in order to explain their expectations and aspirations, creating a better understanding and ensuring that the treatment chosen is in line with their desires.
Emotional Impact:
Gynecomastia can have both physical and emotional consequences for men. Viewing before-and-after images of those who have successfully completed therapy might provide emotional support and encouragement, pushing them to seek help and act.
Surgeon Expertise:
Large before and after photo galleries of real patients who have had male breast reduction surgery may be found on the websites of plastic surgery facilities. You can see these pictures prior to the procedure to get a sense of the plastic surgeon's degree of training and experience. You are capable of making an educated choice prior to choosing to undergo the procedure.
My sincere advice to all gynecomastia male patient, it's important to keep in mind, though, that although before-and-after pictures can be inspirational and educational, they shouldn't serve as the only consideration when choosing a course of treatment. Seeking advice from a licensed healthcare provider is crucial.
Source : https://www.isaps.org/media/vdpdanke/isaps-global-survey_2021.pdf