Trying Liposuction Treatment – Is It Safe? Audio Journey of An African Patient in India
Liposuction Treatment in India – Is It Safe?
Dr. Is it safe?
I have travelled from Africa to India for this surgery only, will I get desired results?
Listen to the enlightening journey of one our international patients who travelled so much to get desired body contouring.
Listen to what she has to say about her journey from consultation to post surgery recovery and results.
Dr Chugh Points on Liposuction treatment
It's important to understand for us as doctors that patients has his/her sort of queries which might be simple in our opinion can be bothersome for our patients.
When carried out by us, liposuction is typically regarded as a safe and successful cosmetic surgical technique. It does, however, come with some risks and potential complications, just like any surgical surgery. It's critical to be aware of these hazards and balance them with the possible advantages before choosing to have liposuction.
Here some Several factors contribute to safety for liposuction:
Medical Advancements in Liposuction technology :
Over the years, liposuction techniques have improved significantly. Today, various advanced methods, such as tumescent liposuction and vaser-assisted liposuction, have been developed, which are safer and more effective than older techniques.
 (Also Read : Plastic and Cosmetic Surgery Technology in India)

Like here are the two latest technologies that Dr. Chugh uses in liposuction treatment procedures.
Board-Certified Plastic Surgeons:
Always consider choosing a board-certified plastic surgeon with specific training and experience in liposuction. Board-Certified surgeons have undergone rigorous education and training, making them well-equipped to perform the procedure safely.
Accredited Facilities:
Liposuction is typically performed in accredited surgical centers or hospitals, which adhere to strict safety and hygiene standards. These facilities are equipped with the necessary medical equipment to handle any potential complications.
Patient Screening:
Before lipo surgery, Dr chugh thoroughly evaluate a patient's medical history and overall health before performing liposuction. Certain medical conditions and contraindications can increase the risks, and these individuals may not be considered suitable candidates.
Monitoring During Surgery:
As a surgeon, I and my team continuously monitor the patient's vital signs during the procedure, ensuring that any potential complications are detected and addressed promptly.
Patient Education:
As a responsible plastic surgeon, I always educate the patient about the procedure, its potential risks, and the expected outcomes. Informed patients are better prepared for the process and recovery.
Post-Operative Care :
Following liposuction surgery, our patients receive post-operative care instructions on a regular basis. And strongly recommend it to every patient. Adhering to your surgeon's instructions is crucial for a safe and smooth recovery.
While liposuction is generally safe, it's important to note that no surgical procedure is entirely without risks. Some complications can occur, as mentioned in the previous response. These risks are typically minimized when the procedure is performed by a skilled and experienced surgeon who follows established safety protocols.
_______________________________________________________________________________________________
About Author : Dr Anmol Chugh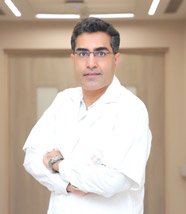 The Director of the Plastic and Aesthetic Center at the CK Birla Hospital in Gurugram, Delhi NCR, is Dr. Chugh. He is the top plastic surgeon in India, and his clientele is international.
Dr. Chugh offers a holistic approach in accordance with the needs of the patient and has more than 13 years of experience in the field of aesthetics. He earned his medical degree from the esteemed Maulana Azad Medical College in New Delhi and continued there to get his master's in general surgery as part of his quest for excellence. He then pursued an M.Ch. in Plastic and Reconstructive Surgery at Safdarjung Hospital in New Delhi, one of India's top universities.