What is Arm Liposuction? Know Types, Risk Factors & Cost in India
What is Arm Liposuction?
Surgery to remove extra fat around the arms and contour it.
Can be done under local anesthesia.
Right candidate: Good skin tone, excess fat around arms, healthy lifestyle
Types of Arm Liposuction:
Suction assisted Liposuction: With conventional suction machine
Ultrasound assisted liposuction: Ultrasound based energy to make fat removal easy plus skin tightening advantage.
Power assisted liposuction: Motor powered cannula to easily remove tough stubborn fat.
Risks: Benefits
Safe procedure. Can go back home in evening of surgery.
Complications are rare. Some patients can experience loose skin, surface irregularities, dimpling, infection, sensory loss.
If excess of fat is to be taken out, better to do under general anaesthesia.
Timeline
Arm liposuction can be done by most plastic surgeon but important to choose well trained surgeon exclusively in body contouring surgery for best results.
Can return to light work in two days but takes up to a week for full resumption. Several weeks for the final recovery.
Initial recovery can last for up to one week. Long-term recovery can last several weeks or more.
Follow-up is required to monitor the progress and assess for any complications.
Results can be appreciated immediately but it can take up to weeks for final shape as swelling subsides.
What is the Cost of Arm Liposuction in Gurgaon Haryana India?

Arm liposuction costs around 60,000 -1.3 lakh rupees/ 850USD- 3200 USD.
Costs vary with type of technology, extent of liposuction, additional procedures.
Arm liposuction being an elective cosmetic surgery is not covered under any insurance.
Precautions
Avoid blood thinner medication including herbal medicines before surgery.
Not if loose saggy skin. Right procedure is arm lift in those cases.
Credentials of surgeon.
Stop smoking and maintain active lifestyle.
Questions to ask
Are you a certified plastic and cosmetic surgeon?
Can I see the results of previous patients?

How will be the recovery?
When should I come up for follow up appointments?
About Author : Dr Anmol Chugh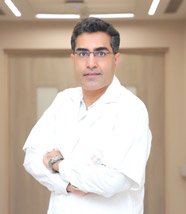 Arm liposuction is a specialized body contouring procedure which is customized according to the patient needs. Dr. Anmol Chugh is leading plastic and cosmetic surgeon based in Delhi-NCR with an extensive experience of arm liposuction and other body contouring procedures. He is fellow of Melbourne Institute of Plastic Surgery, Australia with vast experience of liposuction surgeries.
Dr. Chugh offers a holistic approach in accordance with the needs of the patient and has more than 13 years of experience in the field of aesthetics. He earned his medical degree from the esteemed Maulana Azad Medical College in New Delhi and continued there to get his master's in general surgery as part of his quest for excellence. He then pursued an M.Ch. in Plastic and Reconstructive Surgery at Safdarjung Hospital in New Delhi, one of India's top universities.
To book an appointment, call or Whatsapp : +91-9818906707