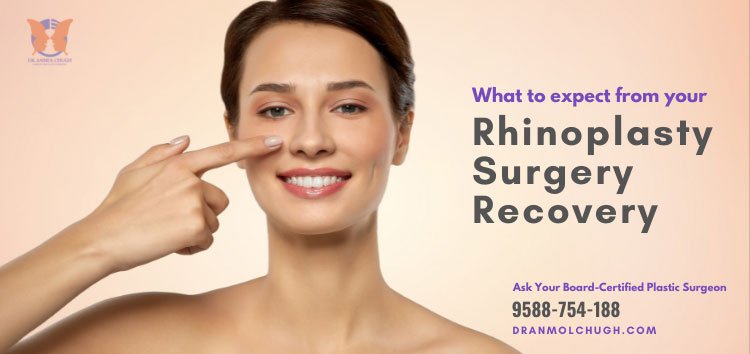 What to expect from your Rhinoplasty Surgery Recovery?
Introduction
Rhinoplasty is a cosmetic surgery procedure performed to reshape the nose. It is performed to alleviate breathing problems, correct structural defects like a crooked nose, remove or reduce large bumps on the nose called "rhinophyma" or fix misshapen noses as a result of congenital defects. The surgery takes between one and four hours under general anesthesia and requires at least two weeks of recovery time. Rhinoplasty can be performed with general anesthesia in cases where there are more complicated problems that need to be corrected.
Some people take painkillers for mild pain, but narcotics should be avoided if possible because they make some people drowsy and often lead to nausea and constipation.
Reasons for rhinoplasty
Some of the most common reasons rhinoplasty can be required are:
– Structural defects
– Crooked or asymmetrical noses
– Hypertelorism (wide nasal bridge)
– Inherited features [such as drooping tip]
– Too large or too small nostrils.
In fact, according to the most recent ISAPS Global Statistics Plastic Surgery Report, rhinoplasty, or nose reshaping, was the 4th most popular cosmetic surgery in worldwide, with more than 852,554 people undergoing the procedure in 2020 alone and In India, Rhinoplasty surgery is 2nd most common cosmetic surgery with more than 34,800 people undergoing the procedure in 2020 alone.
How long does recovery take following a rhinoplasty?
"An individual who undergoes rhinoplasty will most likely experience a long recovery process, from two to six weeks. This will include taking prescription medications to prevent infection and reduce swelling as well as avoiding any strenuous, physical activity or exercise for the first two months." Says Dr. Anmol Chugh-Head of Plastic and Aesthetic Centre of CK Birla Hospital, a board-certified plastic surgeon in Gurugram, Haryana and an ASPS member
How can your plastic surgeon's technique influence your recovery?
The type of surgery a plastic surgeon performs will depend on your individual needs and desired results.
This is a great opportunity to get the doctor's perspective on your rhinoplasty surgery questions. One of the most important questions you should ask is what technique they use.
Type of surgery
The type of plastic surgeon and their technique can have a significant impact on how you recover from rhinoplasty surgery. The two most common techniques are open and closed, both variations of the traditional cut-and-sew method.
Open rhinoplasty
With open rhinoplasty, the surgeon will make an incision from ear to ear across your nose to access the nasal cartilage where they'll then make cuts on each side to straighten out your nose shape.
Closed rhinoplasty
Closed rhinoplasty is a type of operation in which the cuts are made inside your nostrils or hidden in your columella (the upper part of your nose). The surgeon will also use internal stitches to close off any cuts they make on the skin inside your nose and outside of it as well.
Types of anesthesia
The type of anesthesia used in the surgery is also important, as it can impact how long you have to spend recovering from the surgery. Different surgeries require different types of anesthesia and here's where things get complicated: some surgeons only do certain types of surgeries under general anesthesia while others only perform specific surgeries under local anesthetic or intravenous sedation.
Why choose only Board Certified Plastic surgeon for Rhinoplasty?
The next question is whether you should go for a board-certified plastic surgeon. It is important to note that there are a lot of people out there pretending to be surgeons. This can be somebody who has had a couple of training courses and they are claiming to be able to perform surgery on your nose or face.
There are many qualified surgeons for Rhinoplasty out there, but finding the right one for you can be tough. There are three ways to find a surgeon, research, referrals and word of mouth. One factor that you need to consider when choosing a plastic surgeon is Board Certified status.
Dr Anmol Chugh Board Certified plastic surgeon in Gurgaon for Rhinoplasty
Dr. Anmol Chugh is Board Certified Plastic Surgeon in Gurgaon and has specialization in facial plastic surgery and rhinoplasty, who also has exposure to all types of cosmetic procedures like breast augmentation, Liposuction, Buttock augmentation, Botox and more.
Dr. Anmol Chugh is the leading plastic surgeon in Gurgaon, India with a wide range of skillsets and expertise. He is one of the best rhinoplasty surgeons in Delhi NCR who specializes in nose jobs and can assure you nothing less than perfection.
He believes that fashion, comfort, and personality are just as important as beauty when it comes to getting a quality nose for your face.