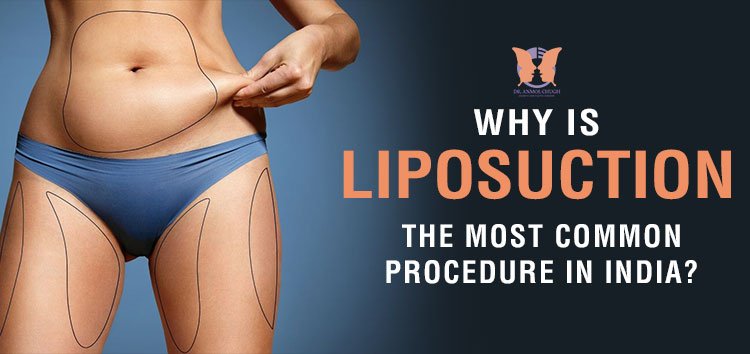 Why is liposuction the most common procedure in India : Survey and Analysis.
Liposuction is now the common aesthetic procedure performed by Indian plastic surgeons. As per the survey and statistics report in India, the total number of 79,248 liposuction surgery performed is near about 20.1%.
However, with the COVID-19 pandemic surfacing in 2020, it looks like many procedure like breast augmentation or breast implant, rhinoplasty surgery may be losing some ground this year.
Why has it become so popular over other aesthetic procedures?
But first of all, we need to,
What is liposuction?
Liposuction is a procedure through which stubborn fat is sucked out of your body and helps you improve and tone your body shape. Although you may experience minimal weight loss after liposuction surgery, the fact is it's not a weight-loss surgery procedure.
Common Area to perform Liposuction
The most common area for liposuction includes the abdomen, hips, and thighs, and it is often combined with a tummy tuck to maximize body contouring. Liposuction can, however, also treat the Double chin, jowls, heavy arms, armpits, male breasts, tummy fat, love handles, back, hips, thighs, calves areas. Unfortunately, it is not an effective treatment for cellulite or areas with sagging skin.
Trending in 2020
Liposuction, according to statistics from the Aesthetic Plastic Surgery (ISAPS), in 2019, with more than 75,000 liposuction procedures done. This trend continued until 2020 when the COVID crisis put a halt to many cosmetic procedures.
Could be the Reason for Trending
After the covid pandemic. During 2020, all local gyms closed, keeping people from their regular workouts. Working from home has become the norm for all types of employees. In this scenario, while working like a sitting job, they are a more likely or ideal candidate for liposuction. Unfortunately, this often leads to weight gain and changes in body contours.
Recovery option:
After liposuction surgery,  recovery time is the most important thing, and WFH or Work from Home plays a vital role in this.
Why because after the surgery you need to take a rest. With many people still working from home in 2021, recovery without taking time off is now possible. You can now have liposuction and recover at home without having to take time off from work.
Why Young Generation choosing liposuction treatment?
Everyone wants to be fit but due to this COVID Pandemic situation and working from home have young generation is more lethargic and due to this their body fat increased. Fat increase in different areas like the tummy, arm, chin, thighs, and back.
They want immediate results and liposuction can play a vital role in changing your look. These generations are more open to procedures and look for procedures that create an immediately visible change, such as liposuction.
Due to latest Technology and Safe Procedure
Nowadays new advanced technology that are involved in liposuction surgery compare to earlier days. These new advanced techniques are very safe and effective. New technology includes
Suction assisted liposuction
Ultrasonic assisted Liposuction/ Vaser
Power assisted liposuction/ Microaire
Main advantage of these technology that liposuction results are better, the contouring is better, the healing is faster, recovery is faster.
Are you one of them…?
Ask us without any hesitation about liposuction